The digital overview of the future
ECHO IS THE COCKPIT THAT OFFERS YOU THE TOTAL OVERVIEW OF YOUR DEVICE FLEET
Echo makes it possible for you to track your computers through their entire life cycle. You will always be able to identify and locate the devices and you will always be aware of the status of the software baseline. You will be able to manage device utilization, stock situation and protect data on the computers remotely – and retrieve, freeze or delete if necessary.
Without Echo you are dependant on gettting half truths from different sources like Microsoft Endpoing Manager, AD, SNOW and then putting together an almost complete picture. Echo collects all relevant data directly from your PCs and Macs, and uses it to bring you the full overview. At the same time, you can setup alarms to be notified whenever something changes, so you can correct it. Echo even enforces specific applications are always updated and instaled on all devices.
Do you want your data served on a silver platter? Call +45 88 44 42 47.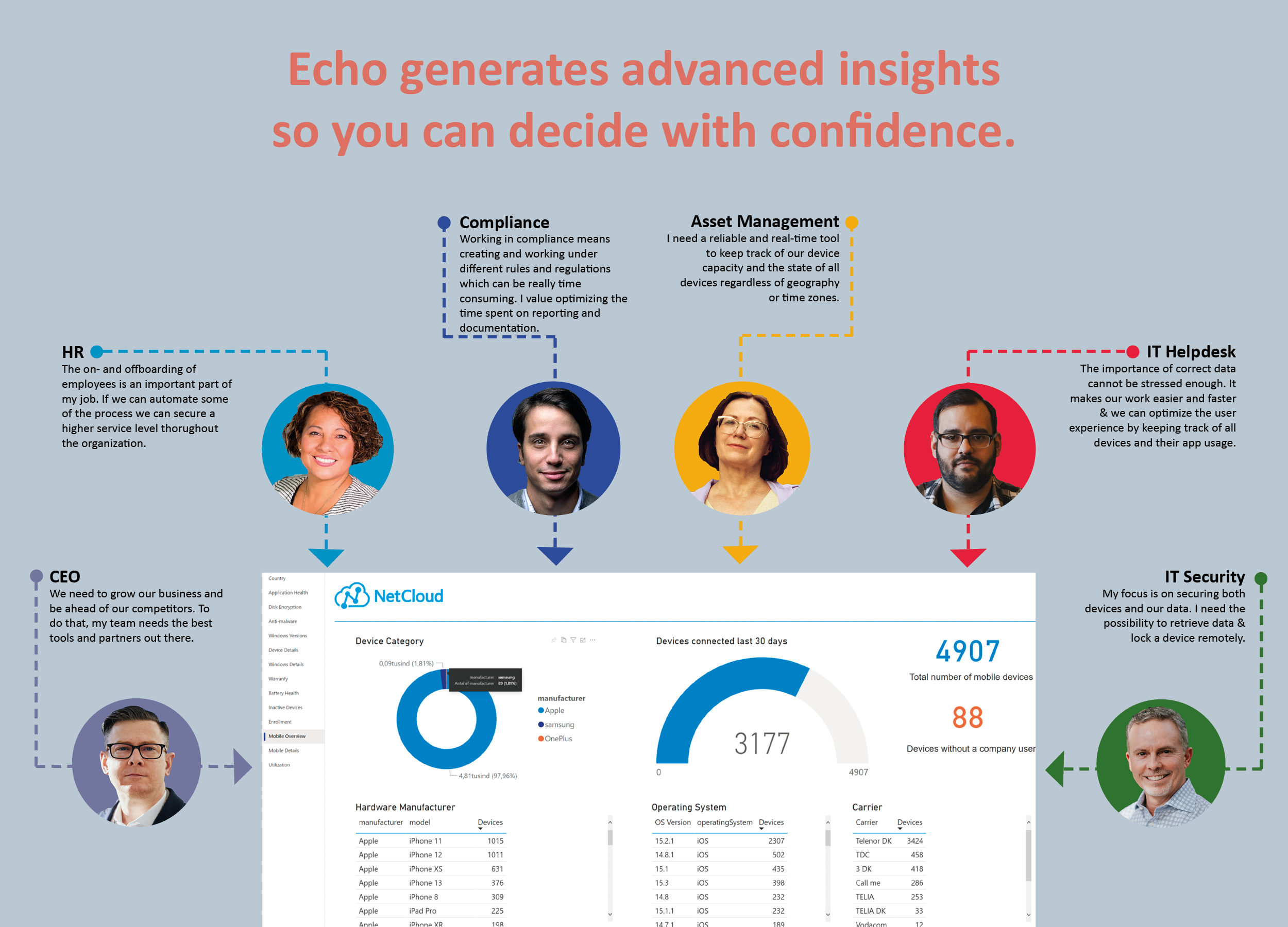 ECHO IN SHORT
With this solution you will get a united overview of all devices in the organization delivered in a dashboard with every possibility of diving in to the specific details. You know exactly where the devices are, who uses them and what applications they contain.
You can for example use this for a life cycle overview - when is a device activated the first time (for example at an extern supplier), which employee uses the devices following that, and where the device is located geographically. The device history is retained throughout its lifecycle, even when reinstalled, renamed or change purpose over time.
Echo is particularly relevant for large companies in all markets/industries - the larger or more complex your company, the more Echo can help you with. Many of our customers are in the following industries:
Pharmaceutical companies
Production companies
Food industry
Service industry
The financial sector
Engineering consultants
The public sector
No matter what industry or market you work in, we can help you optimize your asset management, IT security and compliance.

WHAT MAKES ECHO UNIQUE?
Echo is already built in to (the majority of) all computers' hardware from the manufacturer and only needs to be activated. As soon as Echo is activated, it cannot be removed from the device again - not even if the OS is re-installed or if the harddisc is switched out. Echo will always re-install itself because the hardware is activated.
Everything is administered from a Cloud service, and the company itself does not need to have the required server resources.
Echo can also be used to secure that the company critical applications are always installed - such as Anti-Virus client, Microsoft Endpoint Manager, InTune or Bitlocker. When Echo is activated the abovementioned appplications will always be started - or reinstalled, if they are missing.
As soon as the central functionality is activated in the devices, it will remain active and should never be enrolled again.
Echo is especially benefical to companies with several or many locations around the world. NetCloud works with customers from both the private and the public sector.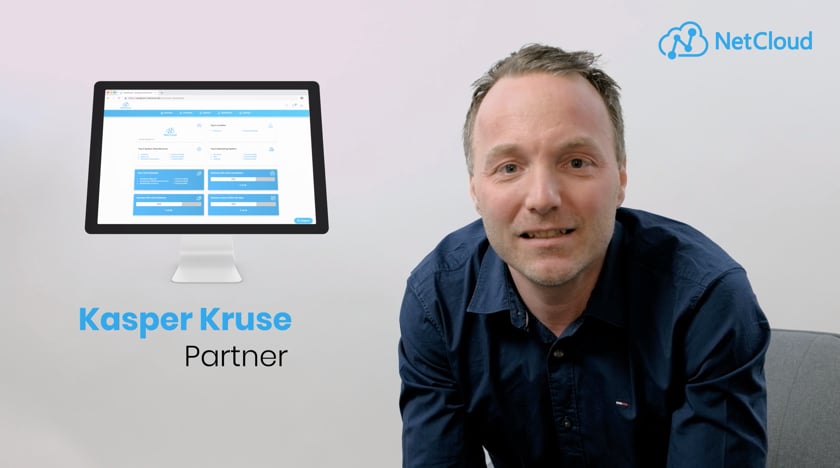 FOCUS ON IT SECURITY WITH ECHO
Besides the fact, that Echo gives you an amazing overview, there is also a number of unique security functionality which can add to your securing of data. The solution can e.g. be used to:
• Delete data – Deletes all or selected data on a unit no matter where it is located.
• Lock device – Locks units, so that they cannot be used and can give an on-screen custom message.
• Find feature – Can locate lost units and report location, no matter where they are located.
• Critical applications – Makes sure that your baseline applications are always installed and running healthy.
Many customers compare the safety functions with the ones we know from "Find My iPhone" but developed for companies with a lot of devices - phones or laptops. And with a lot more functions.
GETTING STARTED NOW
It doesn't require a lot of ressources to get started with Echo. Typically the solution is on and rolling in a couple of days. Echo is activated by a simple installation file. This may be distributed using an existing deployment solution (e.g. Microsoft Endpoint Manager), or a range of deployment options provided by NetCloud.
As soon as Echo is active on the devices, they will report back to our Cloud portal, where we create an overview for you. Are your company already using ServiceNow now, then read about the integration with Echo, that sends all of the data from Echo directly into your favourite ITSM.
HAPPY CUSTOMERS
Many of our satisfied customers use Echo and cannot wait to share, which of their needs are covered by this solution.
Do you want to know
more about the solution?
Contact Brian - he will tell you more about Echo.