ServiceNow integration with Echo
Get the best result and use of ServiceNow with an integration with Echo
You will gain full control and insights to your devices, when Echo is activated.
All the information that are gathered can be sent directly into the CMDB database of ServiceNow.
Examples of the available information, that can be shown in ServiceNow if there are changes, are:
Model
Username
Windows version
Manufacturer
Guarantee
Battery capacity
Serial number
Location (country and city)
It really is only limited by your imagination. Echo will continually receive and process all software and hardware related information from the devices with no effort from the company. As Echo cannot be uninstalled, your information will always be uptodate, and Echo can help repairing possible errors. It can be adapted to the specific needs of your company.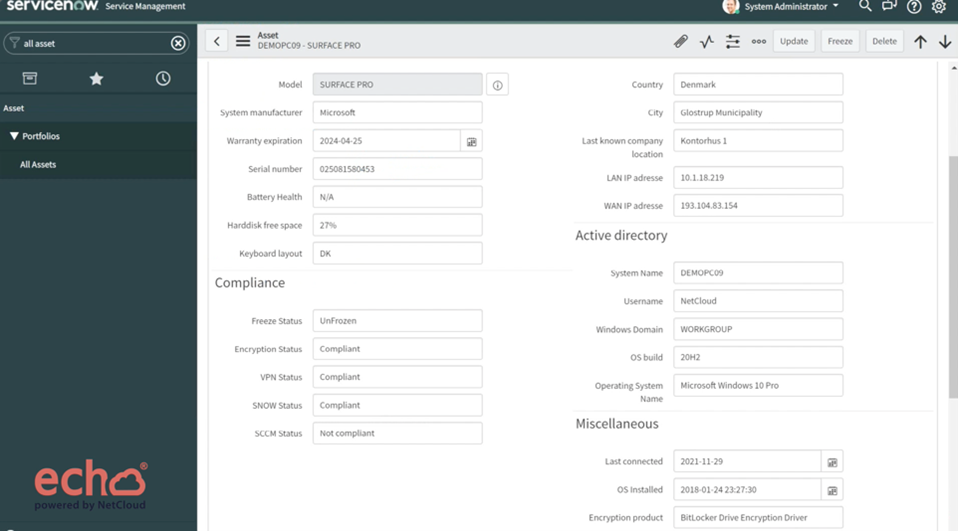 Compliance
Echo is also capable of ensuring the devices are compliant according to the company baseline. This means that you can receive a message, if the device lives up to the rules of encryption, if there is any anti-malware installed or if the Microsoft Endpoint Manager is functioning correctly. A compliance check can consist of standard controls such as Windows Service Check or a company specific control that may be more complex. A failed contol can also result in an automized repair which will recreate your baseline to ensure the device is compliant.
It will be possible to see if a user's device complies with the company baseline directly in ServiceNow, and the staff of your help desk can immediately see the condition of the PC when they are helping a user.
By utilizing the repport system in ServiceNow, it is therefore possible to consistently keep an eye on the company's baseline.
Read more about Compliance with Echo.
Security
By integrating ServiceNow and Echo, it is possible to lock a PC directly from ServiceNow in case of theft or loss. This can simply be done by a button available for the helpdesk staff in ServiceNow. The PC will then be locked with a message of ownership and contact information on the monitor.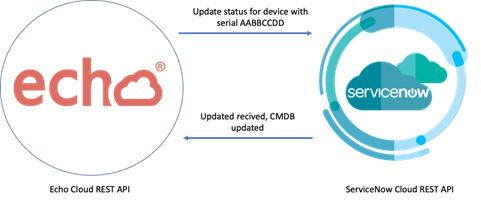 UPDATE DIRECTLY IN SERVICENOW
Integration with ServiceNow is created with the REST API to ensure that safety is never at risk, and routines and all processes are well documented.
API integration makes data available in near realtime. As soon as a change is registered on a device (e.g. BitLocker is switched off) this information will dynamically be updated in ServiceNow's CMDB database, and the information is always updated. Only the delta values (the changes) will be updated. It is therefore not necessary to setup daily synchronization as with other asset data sources.
SERVICENOW & PROCESSES
There are many advantages to having all the information from the devices gathered in ServiceNow. It will make it possible to make procedures for e.g. when an employee changes company. It could be to notify the manager about how many devices the employee is in posession of, and when and where the devices have been in use the last time.
It is also possible to create a selfservice function where the employee can lock the device himself in case of loss - or creating a list of how many devices the company believes he is in posession of.
HAPPY CUSTOMERS
Many of our satisfied customers use Echo and cannot wait to share, which of their needs are covered by this solution.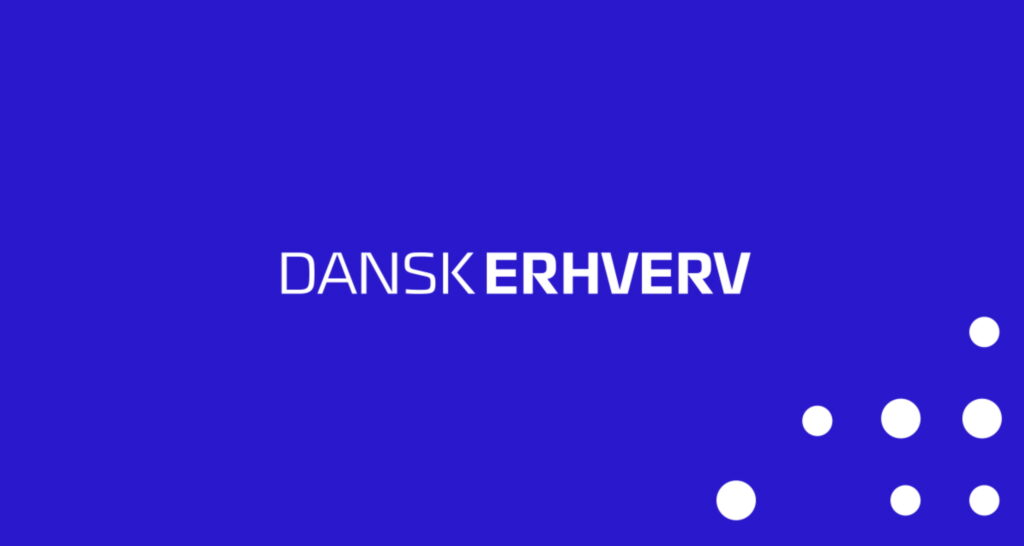 THIS IS HOW WE HAVE ACHIEVED OVERVIEW AND CONTROL OF ALL OUR UNITS
Do you want to know
about the many possible integrations?
Contact Brian, he can tell you much more about Echo and help you with getting a POC for your company.