Dansk Erhverv / Danish Chamber of Commerce:
THIS IS HOW WE HAVE ACHIEVED OVERVIEW AND CONTROL OF ALL OUR UNITS
Version 2 has spoken to Kim Sørensen, IT Operations Manager at the Danish Chamber of Commerce regarding the solution that has created great overview.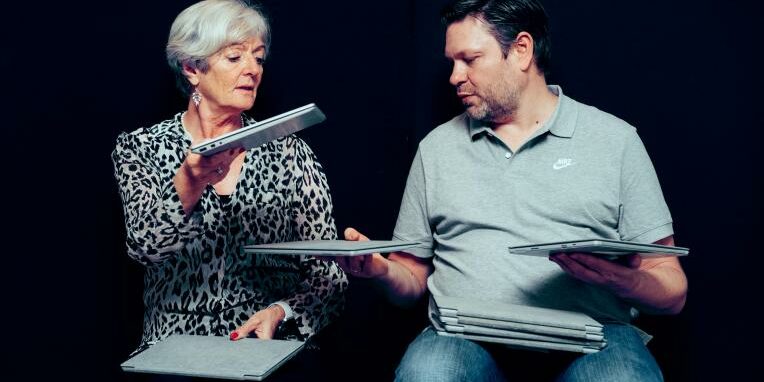 The Danish Chamber of Commerce has found a tool that gets the organisation's units under control.
As employees get more and more devices, it may be difficult to maintain the balanced overview. Laptops are stolen or miss out on critical updates when they are left in drawers by forgetful employees. Licenses expire and employees forget everything about GDPR and store personally sensitive information on their laptops The Danish Chamber of Commerce has found a tool that gets on top of all these challenges. And in addition, you can use it to fret burglars.
One of the major weaknesses of the many security solutions that a modern company needs is that there are so many. Because when then have been set into operation, you have to make sure that they are not overruled by new changes in Windows baseline or one of the uncountable many other system changes that affect the tools.
A survey of the deployment tool on more than a million units has shown that 13 per cent of the installed encrypting tools and 19 per cent of the installed client patch management tools have non-functioning agents.
If you do not actively monitor and collect information on the condition of the tools you may be left with a rosy but totally incorrect impression of the condition of your computer fleet.
Kim Sørensen knows that for a fact. He is IT Operations Manager with the Danish Chamber of Commerce and has tried several solutions in his quest for the golden overview.
"IT departments cannot do any better than they are allowed to by the system, and we have been very satisfied with Echo from NetCloud It offers us a fantastic overview of e.g. what OS versions that are running on different units. Suddenly, you see the Windows 1709's hiding on laptops in drawers during the first months of the corona pandemic and fix them.
We also use Echo to check that security procedures like Bitlocker are actually running as they should on all units. This works very well for us. We even found a mistake in the way we asked four our SCCM based on that Echo reporting an error and that our SCCM reporting that everything was just fine."
Embedded in the Motherboard
Echo is a solution built to make lives easier for the operation and security teams, explains Frank Meinertz, Key Account Manager at NetCloud.
"The idea of Echo is that the user gets a total overview of all units and security solutions used by the individual units and the condition that they are actually in. If one of the security solutions experiences an unforeseen incident, Echo helps to reset it so that all is running as it should."
Echo is built up around a hardware-based agent present on almost every motherboard manufactured for the past 10 years and it just needs to be activated and receive the customer's wishes for baseline and policy, which is continuously upheld for the customer by NetCloud. . When Echo is activated, it can survive reinstallation of the operating system and is completely independent of third-party tools.
Reverse Bullying
"One day, a thief climbed through a window and stole a pile of our laptops and sold them on abroad. At once, we saw in Echo that everything on the laptops had been encrypted. We even saw the house in the thief's country of origin, where the computers were stored before they were sold on. Every time, one of the new owners tried to get 'his' laptop up and running, we reformatted it. We had a lot of fun following the map in Echo where we saw that everyone took their fenced goods back to the thief to complain. Because Echo was still installed, even though everything else had been deleted," Kim Sørensen recalls smilingly.
Today, NetCloud offers consulting for customers regarding communication as to getting laptops back.
"We have succeeded with Echo, after the stolen laptops had been locked, the customer wrote on the screens that he wanted them back because they had been stolen from his company. He got his two laptops back from a nice guy in Baghdad who didn't want to be in possession of stolen property."
But even less drastic methods than threatening with the law will do the trick. Because in Echo you can adjust for how long a unit may be away from your network before it locks.
"We have set them to lock after 90 days without contact, and some users are not too happy about that when they take the computer out of the drawer after six months when they are at home with a sick child. But we like it. It is a good but merciless method to the users," says Kim Sørensen.
How Many Do You Actually Have?
But it is not just stolen and lost units that you must on top of Do you actually know how many laptops you have in your company? It is important in relation to licences, so that you know how many you need. . It sounds crazy, but this is an area where many companies use estimates, explains Frank Meinertz..
"We signed an agreement with a customer once that estimated it had 12,500 computers. After we had activated Echo for them, we saw that they had a bit over 16,000 units and we could show them the location of every single unit as soon as they got online. They got a much better overview of their computer fleet, to put it mildly."
This is the kind of overview that brings peace of mind to the operations department. Because it helps both in everyday life and when trouble is looming, Kim Sørensen insists.
"We are at peace regarding the location of missing units because we can always find them when they are turned on. This gives us a good gut feeling as for security. If something goes wrong and if something gets stolen, we have to make a GDPR case of it, and then we can make sure that it is bitlocked and that we meet all requirements, and our data is safe. So, we sleep better at night."
If you want to know more about the condition of your own computer fleet and make sure that all of your security solutions are actually operative on all units and all the many other advantages that Echo will give you, contact Frank Meinertz, frank@netcloud.dk, and his colleagues at NetCloud to see how Echo can help your company.
Read the entire article on Version2 here (in Danish): https://www.version2.dk/dansk-erhverv-saadan-har-vi-faaet-overblik-alle-vores-enheder
""IT departments cannot do any better than the system lets them, and we have been very satisfied with Echo from NetCloud. It offers us a fantastic overview of e.g. what OS versions that are running on different units."
Kim Sørensen
IT Operations manager
Do you want to know more about the solution?
Contact Brian, he can tell you more about the case.